Miss Chaves looks forward to an exciting and eventful 2017-18 season including eight concerts with Pacific Chorale, outreach with Pacific Symphony and Long Beach Opera and soloing with Pacific Symphony's Youth Orchestra. Click the calendar tab for more information on specific performances.
Chelsea looks forward to returning to schools in the LAUSD with Long Beach Opera's outreach operas. Roles include Anne Frank in Anne Frank the opera, Lily in The Playground King, and Maria in Monkey See, Monkey Do.
Miss Chaves looks forward to with collaborating with Pacific Symphony's Class Act Outreach Program for yet another year. This year, the composer of the year is Ludwig van Beethoven. She will be visiting elementary schools in Orange County alongside various instrumentalists from the Pacific Symphony to bring the joy of music to young students!
For the first time ever, Chelsea sang a tune from a popular video game called Journey. This unique piece featuring five different languages is called "I was born for this" and was composed by the talented, Austin Wintory. The concert took place at the Segerstrom Concert Hall featuring the Pacific Symphony Youth Orchestra conducted by Roger Kalia. Below is a picture from the concert.
Chelsea was featured in the March edition of the Classical Singer Magazine. The article was written by Michelle Latour. Check it out! https://www.classicalsinger.com/magazine/article.php?id=3024
Miss Chaves had a great time collaborating with DMA pianist Carissa Kim in her recent recital at USC. The recital took place on Friday, March 24, 2017 at 4pm in the Newman Recital Hall at USC in Los Angeles. Repertoire: Maurice Ravel's "Cinq Mélodies Populaires Grecques" and "Deux Mélodies Hébraïques."
Here is a very special video compilation from a concert Miss Chaves sang in on Saturday, January, 14, 2017. Featuring the talented Minh Nguyen on the piano. This concert was sponsored by Ed and Patty Cote and was held at the Holy Family Cathedral in Orange, CA.
Upcoming:
Miss Chaves looks forward to an exciting 2017-18 season with Pacific Chorale featuring Dr. Rob Istad as the new director! For more information, click the Calendar tab.
Recent news:
Chelsea was invited back to the beautiful home of Mr. & Mrs. Gabriel Ferrucci once again for a private event on 1/10/17. She was accompanied by Dr. Cheryl Lin Fielding and collaborated with Kevin Gino, tenor. (Picture below).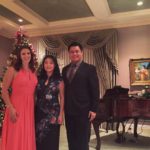 Miss Chaves spent last summer in Oberaudorf, Germany where she sang with Musiktheater Bavaria for the entire month of July! This was a very special training program where Chelsea had weekly voice lessons and coachings as well as performed in concerts, studio classes, master classes, and opera scenes. For more information on MTB, visit http://musictheaterbavaria.org/ .
You can now listen to the recordings from Chelsea's recital on June 1 by clicking the "audio" tab at the top of the screen.  The concert featured music by two local composers: George Gianopoulos and Gregory Parker. I was accompanied by Dr. Cheryl Lin Fielding on the piano. Enjoy!
Singing the National Anthem at the Laker Game on March 22 was quite an honor for Chelsea! You can find the link to the video here: https://www.youtube.com/watch?v=eWTQf513hGI&feature=youtu.be. The Game took place at the Staples Center where the Los Angeles Lakers beat the Memphis Grizzlies!
Miss Chaves recently made her debut with Opera Santa Barbara in their production of Suor Angelica/Gianni Schicchi as the Second Lay Sister. The dates were April 22 & 24, 2016 at the Granada Theater in Santa Barbara.
Miss Chaves had the privilege to sing alongside Plácido Domingo, Deborah Voigt, Milena Kitic and accomplished alumni from Chapman University for the grand opening of the Musco Center for the Arts on Saturday, March 19. This was a spectacular evening filled with so much talent and support for the arts. Below is a picture of Chelsea and the talented, Plácido Domingo.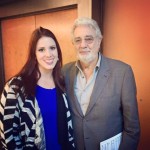 Chelsea and tenor, Kevin Kyle Gino had the honor of singing at Paul Musco's 90th Birthday Celebration in Newport on January 16. They were accompanied by the talented and beautiful pianist, Dr. Cheryl Lin Fielding. They are grateful for all the generous love and support the Musco family has shown the Orange County community over the years.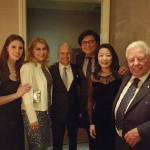 Pictured: Chelsea Chaves, Milena Kitic, President Doti, Kevin Gino, Dr. Cheryl Lin Fielding and Paul Musco.
Chelsea Chaves and tenor, Blake Howard had a wonderful time singing at the at the Forest Lawn in Hollywood Hills for their annual Veterans Day Celebration! It was such an honor to be a part of this special day honoring our country's heroes. This was Chelsea's 3rd Veterans Day celebration with Forest Lawn.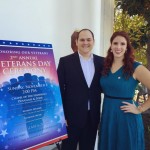 The concert in Marina Del Rey featuring Zachary Competition finalists was a huge success! The concert took place at Burton Chase Park on Thursday, July 2, 2015 at 7pm. Below is a picture from the event. (From left: Bernardo Bermudez, Haqumai Sharpe, André Courville, Chelsea Chaves, Maestro Frank Fetta, and Elizabeth Baldwin)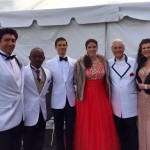 Chelsea had a blast up in Astoria, Oregon this past June where she performed the role of Pamina in Astoria Music Festival's production of Die Zauberflöte on June 26. Below is a picture of Chelsea as "Pamina."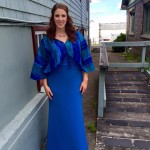 Below is a picture of Chelsea and Mark Robson after a concert in Astoria for the Astoria Music Festival.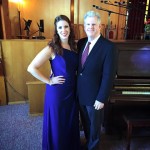 Below is a picture of the cast from Pacific Symphony's youth concert series. The cast performed 8 concerts for local elementary students and taught them about "Sharing the Joy Of Music" through Leonard Bernstein's music.
The Loren L. Zachary Competition finals were a huge success. Each finalist performed two arias with a live orchestra at the Wilshire Ebell Theater on Sunday, May 17. Chelsea was honored and excited to be a part of this wonderful experience! She performed "Quando m'en vo" and "Je veux vivre." Pictured below is the program from the competition as well as a picture of the finalists with Maestro Frank Fetta.
Chelsea is honored to be chosen as Sigma Alpha Iota's (Pasadena Chapter) Vocal Scholarship winner for 2015! Below is a picture of the three recipients at the winners recital that was held on Sunday, April 12 at the Pasadena Public Library. Dongi Xie (piano), Chelsea Chaves (Soprano), Micah Wright (clarinet).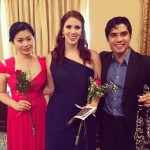 USC's production of Iphigénie en Tauride by Gluck was a huge success! Chelsea had a great time singing the role of Première Prêtresse. Click below to watch a special video featuring Chelsea and Maestro Brent McMunn.  https://www.youtube.com/watch?v=KKtjF-RhJ60
USC Opera Scenes was a huge success! Chelsea performed the heartbreaking duet "Parigi, o cara" which takes place in the final act of Verdi's La Traviata. She sang the role of Violetta while the talented Blake Howard sang the role of Alfredo. The scenes program took place on Friday, February 6, 2015 at 7pm in Bing Theater at USC. To watch the video from the dress rehearsal, click the link here: http://youtu.be/wdQdsD8NrYc
The performance with Bruce Sledge and Dr. Cheryl Lin Fielding was such a success that we were asked by President Jim Doti and Dr. William Hall to perform at Paul Musco's private birthday party. Here is a picture from the splendid evening. (From the left: Ms. Chaves, Dr. Cheryl Lin Fielding, Yang Bartolotti, Mr. & Mrs. Paul Musco, Mr. & Mrs. Jim Doti).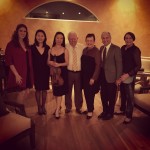 Here's a picture of Bruce Sledge, Dr. Cheryl Lin Fielding, and Chelsea after their performance in Newport for one of the trustees from Chapman University on January 11, 2015.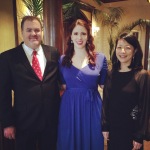 The latest recordings are in! Click on the "Audio" and "Video" tabs to listen and watch!
Singing at the Forest Lawn in Hollywood Hills for Veterans day was quite special.  There were skydivers, jets that flew overhead, and most important, there were over a thousand Veterans in attendance. Chelsea was very grateful to be a part of this wonderful ceremony supporting our veterans.
The musical theater review went very well at the California Club in Los Angeles for the Commanderie de Bordeaux. It was an honor to work with my director at USC, Ken Cazan, and perform at that very special event.
Thank you so much to those who attended my recital on August 17th in Santa Barbara. It was a pleasure sharing an afternoon of beautiful music with you. Thank you for the love and support. I hope you all enjoyed yourselves. Videos to come very soon!
Carmen was a huge success at the Granada. Presented by the Music Academy of the West, we sold out both shows! Here is an entire cast photo with the lovely Ms. Horne front and center.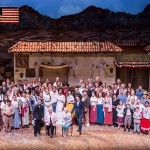 It's hard to believe SongFest is already over! Chelsea had a great time learning new repertoire, meeting incredible composers, and working with fantastic faculty. She learned so much throughout the four week program. She plans to present a recital featuring the repertoire she learned for SongFest in August. Details to follow! Click the link to watch Chelsea's final performance at SongFest in their "Honest American" concert. https://www.youtube.com/watch?v=g9vZGQvtMCM&feature=youtu.be
The videos are up from Chelsea singing at the Forest Lawn in Glendale and Hollywood Hills for their annual Memorial Day services on May 26, 2014. It was quite an opportunity for Chelsea to sing for the veterans of America and to honor those who have lost their lives serving this country. It's experiences like this that make her proud to be an American.
Ms. Chaves is excited to announce that she has recently been awarded a $10,000 scholarship from USC's Town and Gown Scholarship Foundation which she will use for tuition. She will begin her second year of the masters program in Vocal Arts/Opera at USC in the fall.
During this past year at USC, Ms. Chaves taught a three-week long program called "Jazz In The Classroom" through the Thornton Outreach Program at Foshay Elementary in Los Angeles, CA.  There, she taught a kindergarten and a first grade class the basics of music using the Kodaly method.
Ms. Chaves was also the Choir Director for the 32nd St. School Jazz Reach Choir via the Thornton Outreach Program. Throughout the school year she taught a group of about 35 students ranging from the 3-5th grade. The Thornton Outreach Program helps bring music to schools in the community around USC that no longer have music programs. This is a great way to introduce young students to different musical styles and inform them of proper vocal techniques.